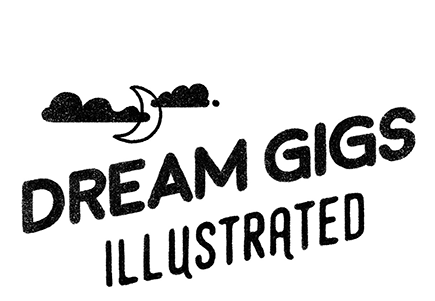 A Series of Gig Posters: Dream Gigs Illustrated
Manyetik Bant came to life 10 years ago, as a personal, musical diary with short musings about songs. In time, it grew bigger via concert and festival reviews, interviews, event guides, news about urban life, photos related to music and the city.
It became a radio show first on Açık Radyo, then on Radyo Eksen. Album reviews and articles about culture & arts found their way into national newspapers BirGün Pazar and Cumhuriyet Cumartesi.
On the occasion of Manyetik Bant's 10th anniversary, In Hoodies and I are embarking on a project of illustrations that we've been planning for some time now.
Emrah Tümer – Daft Punk @ Tatooine
One of the first ideas that came to my mind upon hearing about the project was to make a poster for Daft Punk. From the 90's on, they left a big impression on people with their music and costumes. I wanted to combine these unique musicians who look like they're from another planet with another part of popular culture that's been influencing people since 1977: Star Wars. (Of course I'm saying this based on the original series)
Thinking about the universal and unifying character of music, I thought why not go for a Galactic Festival? I imagined Stormtroopers, Ewoks, Wookies, even Darth Vader losing themselves to the beat and having a blast at Daft Punk's Tatooine gig. I tried to carry this to the poster. 
Please be our guest at the Galactic Festival in Tatooine.
Signed: Emperor Palpatine